With €coenergy System for the cooling of the oil circuit of the presses DEGA has eliminated completely and all-year-round the use of a Chiller, saving up to 90% cost when compared with consumption of the chillers. The system consists mainly of air / water exchangers that have the characteristic of being built in two overlapping circuits: an upper and a lower circuit.
In good weather conditions, the lower cooling circuit cooling the moulds, while the upper for the cooling of the oil circuit. In areas with high ambient temperature instead the two circuits are used in parallel for the cooling of the oil circuit. Maximum economy is also obtained by using the heat produced by the press for heating the working environment: with circulating water at 30 -32 C ° in the floor, it is possible to heat up to 1 sqm of water at 22° every 160 K/cal.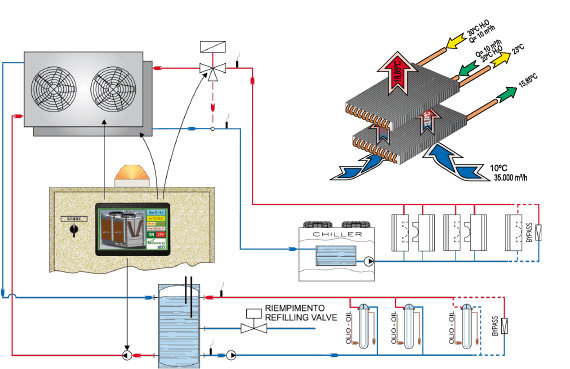 In those areas where the air temperature is significantly high (40°- 42° c.) and it is essential to lower the temperature of the processo water as much as possible (even – 5° – 6°- 7° C. under the ambient temperature), the €COENERGY can be equipped with cellulose panels; these panels, if sprayed with water, humidify the air that passes through them and facilitate the evaporation, with the subsequent lowering of the temperature of the air itself. The cooled air goes through the exchangers where the process water passes, and cools it.

No contamination between the process water and the humidification water
No waste of water, because the excess humidification water is recovered and put in irculation again
No treatment, of the process water or of the humidification water
Virtually no maintenance operations, and without the need to stop the system
Temperature of the process water, programmable and constant, regardless of the outside temperature, thanks to the control of the adiabatic pump and the graded introduction of the fans
Perfect to cool the waters of any industrial process where you need to take water again to mid-low temperatures, this is the solution for foundries, industrial moulding, food and chemical processings
LEGIONELLA FREE
The €COENERGY machines are equipped with fans fitted with blades shaped for high efficiency and low noise.
€COENERGY ahB uses large cellulose panels (30% more surface area) installed vertically are evenly and consistently wetted. The cellulose panel is at the correct distance from the radiator. Regulating the flow of water prevents the  formation of droplets (condensation) that may  cause fouling or scaling of the radiator itself.Moreover, the adiabatic panel functions as a filter purifying the air inlet and trapping the
volatile parts which prevents contamination of the radiator.
MAIN CHARACTERISTICS:
Pump body, valve body, tank in acid proof thermoplastic material.
Completely automatic and programmable functioning.
Rapid descaling (using a DEGA special one), even al low percentages (10-15%).
Possibility of descaling easily exchangers, moulds, refrigerating tanks, evaporation towers, thermoregulation plants, boilers and hydraulic circuits even if almost totally obstructed.
Very easy to handle.