BM
Specific for the recovery of reject parts on board of the machine.
 
Minimum dustiness of the ground material.
Unbeatable for the recovery of technical moulded materials and loaded materials.
Collection drawer for the granules, with the possibility to apply an extraction screw or the pipe of the feeder.
Minimum maintenance.
HP 30-42
Warehouse mill for medium and big quantities of rejects.
Extremely noiseless.
Liquid-cooled chamber.
Possibility to match it with an extractor of the ground material, with screw or feeder.
With a dedicated cutting chamber, suitable to recover rejects of blowing, hot parisons, pre-forms and large thermoformed items.
Special version to recover very long extruded items.
LP
Granulator designed for "Side Machine "use, it combines the important absence of noise to the production of a grain with minimum dust, it is suitable to grind even very thick pieces with a minimum motor use.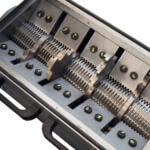 For the need to recycle big amounts of large pieces (eg bumpers), extrusion drains or large thickness presses, not wanting to use big machines with big powers installed, DEGA proposes its shredders which reduce the large pieces into smaller ones, so they can then be re-granulated with smaller granulators.
The SRD mono-shaft series was designed for shredding and not grinding. The machine is composed of a large cylinder containing fitted cutter inserts, and a barrier driven by a hydraulic cylinder to press the piece against the cylinder, reducing it to the right size according to the grid that has been mounted.