Dryplast, a complete line for drying all materials. It is composed of hot air generators very efficient and properly calibrated to give maximum yield with the minimum energy consumption and combining a fan or a pump that generates the right quantity and air pressure to each power applied, all controlled by a thermo high-precision microprocessor.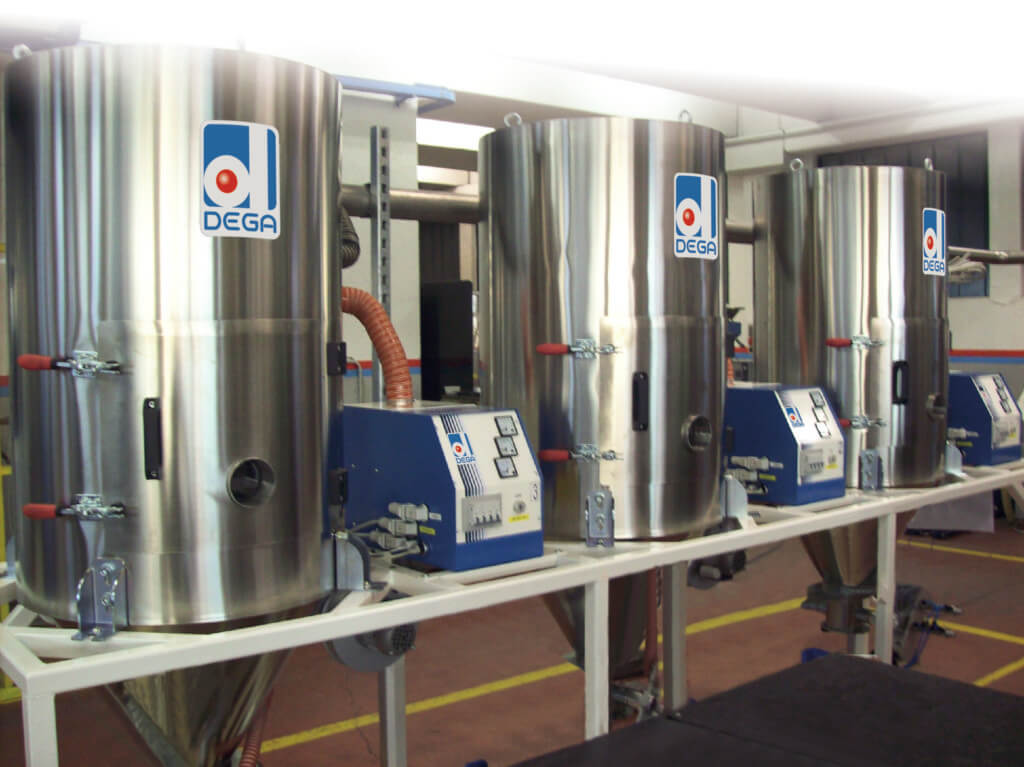 Stainless steel Silo-dryers for 120-200-350 litres: the most practical and economic solution for drying small and medium quantities of material. Economic because the entire heat of the heaters is transferred into the material through a special circuit of the process air in the boiler, so the electricity is only used to heat the material. Thanks to the simple concept, this machine construction is complete; no use the cart support, as it is already mounted on wheels; it already includes the Aeration valve and it is easily installed on the ground and chargeable directly without the use of hopper feeders. Another great feature is the cleaning of it: the container being placed on the ground and the removable cover make the cleaning a matter of minutes.
Drytech dehumidifiers, High energy savings; thanks to preset programs for each material, the dehumidification process is specific and related to actual consumption. With the new zeolites, a low Dew-Point can be reached much more easily and with the 3 heat recovery cost dehumidification is reduced by 47%.compared to molecular- sieve dryers, there is also no need of a connection to compressed air or to the water supply. The DDK model weighs the actual accumulation of water in the sieves and performs the regeneration ONLY once they are full. The display reads the weight of the water extracted from the material.
The process hoppers are designed to maximize the chimney effect that the hot air produces while going through the granules: they are made of finely polished Aisi 304 stainless steel and are insulated with rock fibre, externally coated with a sheet of satined aluminium. The large opening present on most of the models, facilitates an extensive and thorough cleaning, while ensuring with quick snap closures always a perfect tightness.
ACP Crystallizers with an innovative concept that allows continuous crystallization of PET, even re-ground material or of minimum quantities. The air flows through the rotating hollow shaft and is distributed evenly to various levels of suction hopper through the hollow diffusion reel. There is therefore no stopping of the client's production for cleaning of the hot air diffuser, plus the fact that without the use of large filters it can be combined with a dehumidifier. The fully automatic functioning is controlled by a microprocessor managing the crystallization process without the presence of an operator, comparing the air temperature with ampere absorbed by the reel motor